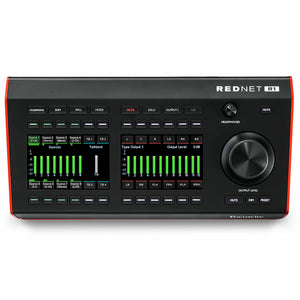 Unleash The Power Of Red Interfaces
RedNet R1 is a versatile studio-grade desktop remote controller for Focusrite Red audio interfaces that helps you perfect your workflow. When combined with a Red interface, RedNet R1 gives you complete control of your monitor selection, source selection, and offers Dante®, Pro Tools™ | HD and Thunderbolt™ connectivity. The RedNet R1 can be used to manage remote-controllable mic preamps on your Focusrite Red interfaces, so that you can keep your interface in the rack and declutter your desktop.

With RedNet R1 connected to a Red interface, you can select inputs from one or more of eight available source groups, each comprising up to 12 channels, to a maximum of 32 total channels. Sources are selected via the front panel, or set up using the included RedNet Control application for PC and Mac. Mix and monitor in Dolby Atmos® using any combination of the selected eight source groups, in formats ranging from mono through to 12-channel audio and other 7.1.4 immersive formats.