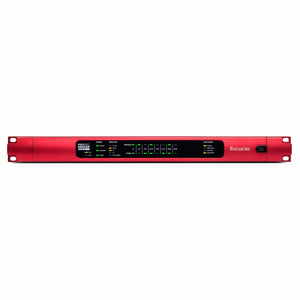 32x32 Pro Tools | HD I/O With Dual PSUs
RedNet HD32R is a 1U, Pro Tools | HD™ interface for any Dante™ audio-over-IP network, providing up to 32x32 channels of I/O (16x16 at 192kHz) Featuring network and power supply redundancy, RedNet HD32R is the ideal choice for integrating your Pro Tools HD system into a Dante networked I/O environment in many critical-path applications, whether in Post Production, Broadcast, Live Sound or the Recording Studio.
A pair of DigiLink mini connectors allows RedNet HD32R to connect directly to any Pro Tools | HD system whether it's Native, HDX or even a legacy TDM system. Multiple RedNet HD32R units can be on the same Pro Tools system up to the maximum I/O channel count of Pro Tools, and Loop Sync I/O allows seamless integration with other Pro Tools interfaces such as HD I/O and Sync HD I/O.