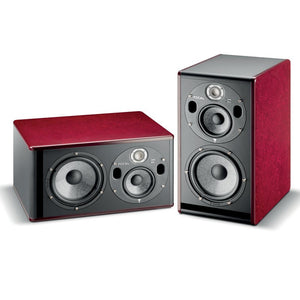 Description 
The Focal Trio6 Be are a three-way active monitor designed to provide the best of Focal's technology delivering precision, neutrality and dynamics.
The Focal Trio6 Be uses some of the technologies used in the SM9 such as the Beryllium inverted dome tweeter, which provides wide dispersion, fast dynamics and superior impulse response. A 5" composite sandwich 5" driver was designed specifically for the Trio6 Be and fitted in an isolated chamber within the cabinet to prevent sympathetic activation of the other speakers. The 8" subwoofer has also been specifically designed for the Trio6 Be, again using a composite sandwich cone. A dual bass port is integrated in the speaker to make it easier for it to position the monitor near walls and maintaining excellent low-frequency linearity.
Taking inspiration in the Sm9, the Focal Trio6 BE offers a focus mode, which reconfigures the Trio6 Be into a two-way monitor. This is configurable with a footswitch and the Trio6 Be includes a ¼" jack input to receive trigger signal. When in focus mode, only the tweeter and 5" woofer are being used restricting frequency response between 90Hz and 20kHz. This function allows to check transfer compatibility on speakers with limited bass such as those found in TVs, portable speaker systems without sacrificing the frequency response curve and stereo image of the 3-way system.
The Trio6 Be can be used vertically or horizontally depending on your room, using a rotating aluminium baffle housing which lets you position the woofer and tweeter in the correct position.