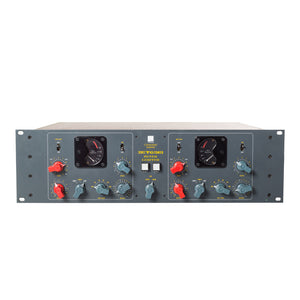 3U rack-mounted two-channel replica of the original zener-diode based EMI/Abbey Road compressor/limiter.
Description
The Chandler Zener Limiter is a dual-channel limiter/compressor created as the ultimate tribute to the EMI TG12413.
A fully licensed replica model, the Chander Zener Limiter has been meticulously designed to be a true replica of the classic console compressor from Abbey road, and was commissioned to celebrate the studio's 75th birthday. As a compressor and limiter, the Chandler Zener Limiter sounds fantastic, building on the EMI original to deliver the wholesome compression that Abbey Road engineers will attest to.
As with all Chandler gear, the Chandler Zener Limiter is built to exacting high standards and top-level specifications. The unit uses the same circuitry design as the two EMI originals in order to pull the characterful and warm compressor into the modern recording environment, while still using the zener diode that gave the unit its truly unique sound, along with its name of course.
All the controls use step switching for easy recalls and precise calibration to achieve and achieve again precise compression settings. As a unit with two channels, the Chandler Zener Limiter can be used as a stereo unit and as to mono units. In terms of compression settings, setting up the Chandler Zener Limiter is a breeze. There are two compression settings with fixed ratios and one setting for the limiting aspect of the unit. The level of bit is also choosable by the using, allowing engineers to dial-up as much character as they need, from smooth compression to that vintage biting sound.
Features
Additional modern features include a THD circuit, that delivers musical distortion across the frequency spectrum. There are also variable side chain filters and switchable impedance settings.