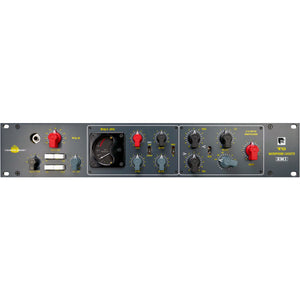 Description
The Chandler TG Microphone Cassette is a fully-featured channel strip using elements of the legendary EMI/Abbey Road TG12345 recording and mastering consoles.
The Chandler TG Microphone Cassette gives you the legendary sound of this iconic console with the addition of modern appointments and a new TG1 Opto Limiter. The Channel Strip uses the mic preamp section of the TG2 paired with a Curve Bender EQ section comprising Treble, Bass and Presence controls. The TG1 Opto Limiter can be used independently via a dedicated patch or in series.
The original TG12345 recording console was conceived in 1968 and started using transistors instead of valves, which marked a milestone in Abbey Road's quest for sound quality. It was at the center of seminal recordings by the Beatles, Pink Floyd, the Rolling Stones and more. It was sadly retired in the early 80's giving way to consoles designed by Rupert Neve.
The new TG Microphone Cassette takes on that heritage and provides the superb sonic quality of this console into a convenient channel strip.