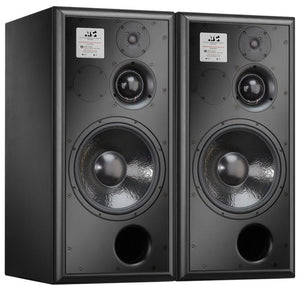 ATC SCM50ASL Pro Studio Monitor Description
The ATC SCM50ASL Pro is a freestanding, ported, 3-way professional studio reference monitor with integral 350W amplifier, particularly suited for mid-sized rooms. All ATC speakers share the same company philosophy - if only the best is good enough, then only the best will do.
ATC SCM50ASL Features
Inside the ported cab of the ATC SCM50ASL Pro is the full-spec 9" ATC SL bass driver, a 75mm Super Dome mid and a 25mm soft-dome tweeter, capable of delivering the extended bass, definitive mids and sparkling tops that you need to hear.
The ATC speakers are powered by an internal 350W tri-amp feeding 200W to the bass, 100W to the mids and 50W to the high end. The sound of the SCM50ASL Pro is precise and clear, with good dispersal - and with the great definition and pinpoint-imaging of the slightest detail, that is something of an ATC trademark.