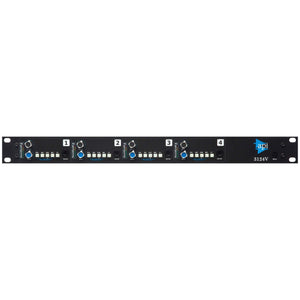 4-channel Mic Preamp Description
The API 3124V is a high-quality 4-channel mic preamp with variable output and 2520 Op Amps as well as a 3:1 Output transformer tap selection.
3124V Preamp Features
The API 3124V is based on the legendary 3124+ and features the same RE-115 K mic input transformer as well as API's proprietary output transformer. It provides up to 65dB of gain as well as a -20dB Pad which affects both the mic and Hi-Z instrument inputs.
However the 3124V now has a Variable Output Level Control as well as 3:1 Output transformer selection switch that allows users to alter how much gain is provided by each stage. The Hi-Z instruments inputs feeds directly into the Op-amps, which boosts low level input without needing matching transformer. They can also take levels up to +20dBu, meaning that they can easily accommodate keyboards and other high level instruments.