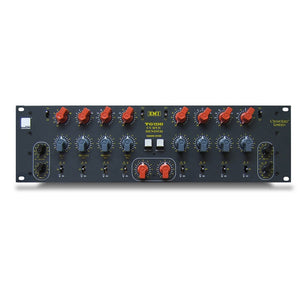 Chandler Curve Bender Description:
3U rack-mounted replica of the two-channel EMI TG12345 console EQ section.
The Chandler Curve Bender is a standalone dual channel EQ unit from dedicated audio craftsmen Chandler Ltd.
The design of the Chandler Curve Bender is based on the original EQ from the EMI unit used at Abbey Road Studios in their 60s heyday of recording. Developed under full license to be both a faithful reproduction and add modern day functionality, the Chandler Curve Bender is incredibly flexible, and sounds truly wonderful. Just ask the likes of Mike Crossey, the resident producer at Miloco's Livingston Studio 1 - his unit always gets fired up when it comes to mixing time.
Chandler Curve Bender Features:
Extra features on the Chandler Curve Bender come in the form of a multiplier, which increases the range of amplitude and the conversion of the original 9 tone options that were available on the original unit. This expands the EQ to a total of 51 filter points. The Chandler Curve Bender is a true dual-channel unit, meaning it can either be used as a stereo mix bus EQ or for mastering, or as two mono EQs on individual channels.
The tone of the Chandler Curve Bender is unbelievable; truly capable of breathing new life into your mixes, this incredible EQ unit can deliver superb definition, detail, and warmth by the absolute bucket load, in places you never realised you needed it! The quality and construction are second to none, and Chandler has incested their usual attention to details and meticulous design in the Chandler Curve Bender. Musicality is the key here, and this EQ is able to provide superbly musical EQ and sound scaling at incredible quality and warmth.
Make no mistake, this is a high-end piece of audio equipment for those serious about the sound of their mixes. An incredible EQ, the Chandler Curve Bender is suited to a huge range of applications, all the way up to the most precise and high-end mastering situations. Demo a unit today to see what all the fuss is about.