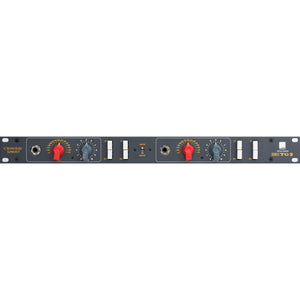 1U rack-mounted solid-state replica of the classic EMI/Abbey Road preamp and DI unit.
Description
The Chandler TG2 is a dual-channel preamp and Direct Injection unit from high-quality audio manufacturers Chandler Limited.
The Chandler TG2 bases its design and sound on preamps of the past, creating a unit designed to deliver the beautiful sound instantly recognisable from thousands of hit records of the past few records, all wrapped up in a well crafted and great looking one unit rack box. Here at Miloco, we have Chandler TG2 preamps at The Church Studio 1, The Yard and Assault & Battery 2. If it's good enough for the likes of Paul Epworth and Flood then Chandler must be doing something right!
The sound in the Chandler TG2 is a discrete transformer-balanced in order to deliver a natural and open tone. Being sure never to sound clinical, the Chandler engineers have employed even harmonic distortion to add warmth and thickness of tone where required. Truly analogue, the full tone from the Chandler TG2 is frequently the first choice for vocal performances, especially with the subtle top end lift that smoothly delivers a bit of air into a recording, cementing the Chandler TG2 as a studio favorite.
The company Chandler Limited pride themselves on their high quality lovingly crafted audio hardware. Aiming to bring vintage warmth and the big sound to modern studio equipment, Chandler has a range of beautifully sounding audio units. Here at Miloco we use Chandler in a number of our studios, including the Engine Room, Pool, Livingston, The Yard and more, thanks to their sumptuous warm tones and modern capabilities.
Extra features on the front panel include Phantom power, DI inputs for both channels, phase reverse, and impedance matching. There's also a handy central switch to enable summing of both channels in order for mini compatibility. All in all the Chandler TG2 is a great looking and superb sounding preamp and DI unit.