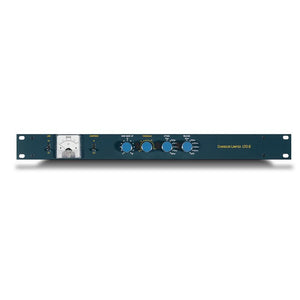 Chandler LTD-2 Compressor Description:
1U rack-mounted hand-made single-channel compressor derived from classic Neve 2254/2264/33609 designs.
The Chandler LTD-2 is a single-channel analog compressor from characterful pro audio manufacturers Chandler Limited.
Designed as a contemporary to vintage classics such as the Neve 2254 and 2264, the Chandler LTD-2 puts this powerful compression sound into the hands of those who aren't fortunate to have access to an original 60s Neve. The Chandler LTD-2 harnesses the fantastic tone and quality of vintage compressor units without the need for vast amounts of maintenance and expenditure to bring it up to the standards required by modern-day studio applications. The sonics are pure and warm, making the Chandler LTD-2 an impressive addition to a compressor rack.
The company Chandler Limited pride themselves on their high quality lovingly crafted audio hardware. Aiming to bring vintage warmth and the big sound to modern studio equipment, Chandler has a range of beautifully sounding audio units. Here at Miloco, we use Chandler in a number of our studios, including the Engine Room, Pool, Livingston, The Yard and more, thanks to their sumptuous warm tones and modern capabilities.
Chandler LTD-2 Compressor Features:
The Chandler LTD-2 uses the same class A circuits and transformers as found in 2254 models, and also makes use of the controlling circuit from the 80 series. The dynamic handling capabilities and frequency response of the compressors of all are what engineers love, so with the Chandler LTD-2, these are the qualities that have been retained and reproduced with meticulous accuracy. Extra features include new release times and an attach switch, designed to fit in with modern compression techniques.
The Chandler LTD-2 has been build with a huge amount of attention and care, ensuring the compressor delivers smooth, musical and pure compression sounds. If you need convincing further of Chandler's exception tone get in touch with Miloco Gear to book a demo.