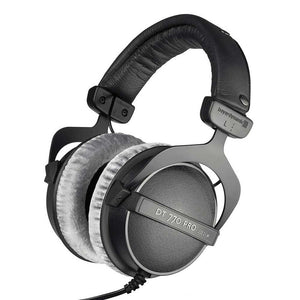 DT770 Description
The DT 770 pro studio headphones are designed to exclude ambient sounds while still experiencing an open spatial feel- important for professionals who require a full bass sound as well as clinically accurate high and mid-range reproduction.
DT770 Features
Beyerdynamic DT770s are fast becoming the new favourite in recording studio headphones, thanks to their fantastic sound quality and superior comfort.
DT770 Variants
32 OHMS
The Beyerdynamic DT 770 32 ohm headphones are perfect to use with your mobile devices and laptops.
80 OHMS
The Beyerdynamic DT 770 Pro 80 ohm studio headphones are a great choice to use for a range of studio applications.
250 OHMS
The Beyerdynamic DT 770 Pro 250 ohm studio headphones are idea to use with a range of professional studio equipment including mixing desks.