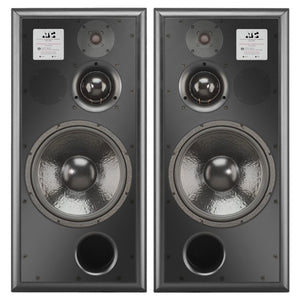 ATC SCM100ASL Pro Description
The ATC SCM100ASL Pro is a free-standing 3-way active reference monitor designed to operate in large rooms.
Critical monitoring relies on an ATC speaker like the SCM100ASL Pro to ensure that what you hear is what you get - when you get home and listen to it. ATC pride themselves on the precise detailing available in their monitors so that you know instantly if something is sitting incorrectly in the mix.
ATC started in the mid-70s producing drivers for the top touring bands like the Pink Floyd, before developing its respected reference monitors such as the ATC SCM100ASL Pro. The decades of experience are what gives you the confidence to trust your session to ATC.
ATC SCM100ASL Pro Features
Capable of operating accurately at high spl levels for extended periods, the SCM100ASL Pro from ATC does it without colouration and fatiguing the listener's ears. Using the ATC Super Dome soft-dome mids reproduces transients with precision so you can monitor in complete confidence.
The SCM100ASL Pro is powered by a 350W 3 way Mosfet power amp.